Name: Rysel Ulrich
Age: Nineteen
Gender: Male
Background: A boy living within the silver lining of the world; the experience and contemporary life of this young man have defined him, as he crafts himself with the tools life has given him. Rysel was born to ash, the first memory within his conscious mind is that of black snow, falling unto the world across the piercing light of a crescent moon. Covered in soot, wandering aimlessly within his razed village. Flashes of memory and perpetual understanding began to fill this child as he stepped through a sea of ashes and a river of red.
"There's nothing left..."
                                                                  "Where am I going..."   
      "Is anyone there..?"
As the rain cascaded down to wash this boy's somber away, as did the arms of a wanderer. The glimmers of hope began to fill his mind as the shimmers of dawn warmed his body. A man, appearing from a flash of golden light; his intentions as shrouded as his face. He took little Rysel into his arms, and spirited him away. Rysel was thirteen when he fully opened his eyes. After being taken to a far off land, constantly dripping with rain and haze, the city of the Hidden Rain. Rysel lived the next six years as a blur. His new family, a middle class merchant group that traveled every corner of the city to sell their homegrown goods. Rysel worked for his family, constantly at a drive to find answers to questions he didn't even know how to ask. His home, the showers of ash, and the mysterious figure. However, after six years, Rysel opened up to his new kin. He smiled, and laughed. Giving the initial impression of insanity, but he explained his sudden outburst to unlocking himself. Staying silent and stoic until answers sprung themselves up would be wasting his life. So Rysel chose to live with his new father, new mother, and sister in peace. He renewed his sense of life, deciding to live and live until he found the answers that kept on coming. The following year, the world came to an end.                       
               "What's the use of looking for answers... You aren't ready for..."                   
               "The world was far too gone. A second chance with a costy price,... huh?"
Rysel was thrown threw a flashing portal, landing on his ass in the next world. His family were within the mass of crowd that stampeded and crushed each other as time began to crumble apart. None of them made it through, the last site being that of the strawberry cart his father intended to grow inside of the new world. With the construction of the New Leaf, Rysel was one of the stumbling orphans; a feeling not new to him. By either luck or chance, or even destiny. He was taken once more into the arms of the same stranger he met so long ago in his first life. With this, he was put into the house of a new father. This one, however, was bathed in gold. A wealthy older man with a legacy to pass, he grasped the blank canvas of a child and gave him the tools to paint his own path. Rysel enrolled in the Ninja Academy, losing and gaining a reputation of failure and excellence depending on whatever he was engaged in. With his incredible upbringing with one of the wealthiest men in the new world, Rysel had everything he could ever need, or desire. He was drenched in wealth, or it felt this way as such gain was foreign to him. At the age of sixteen, Rysel's last father past away, giving everything to his adopted son. Rysel, donated virtually everything there was to the construction of the New Leaf. Now, at nineteen, Rysel has graduated the Shinobi Academy with approved declaration of Jounin Rank, however, not fully accepting the title. He now lives within the Leaf as a contact for the Hokage, giving everything he has to offer.
                                "It's my turn to decide where my life goes".
Appearance: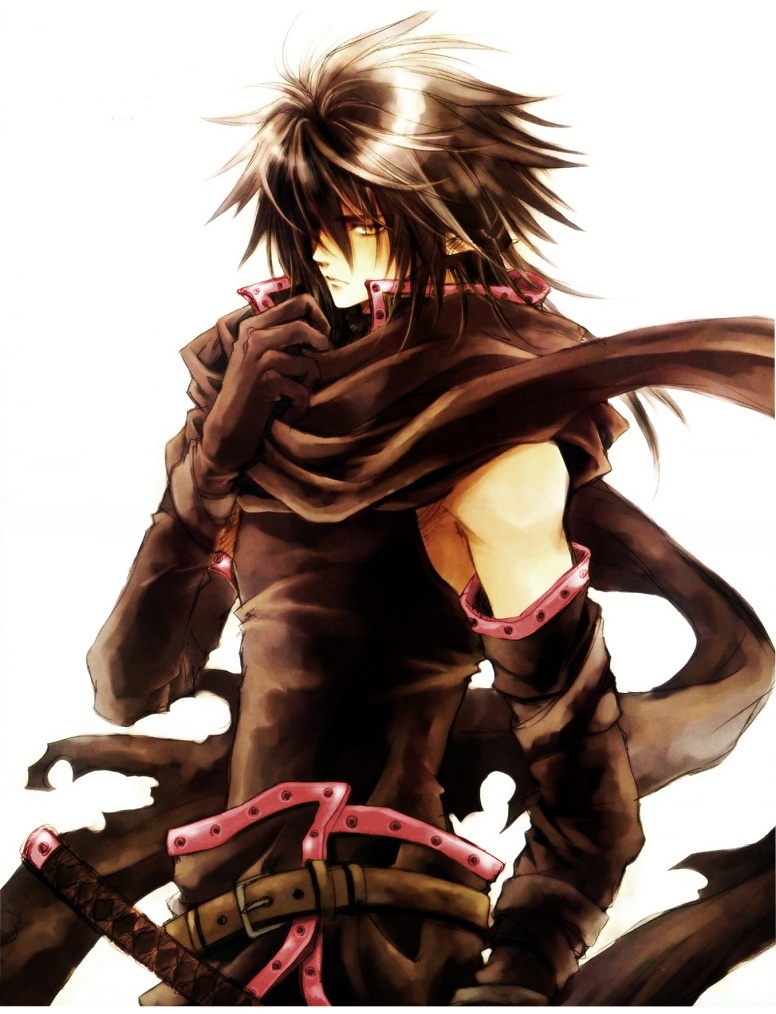 Rysel dresses in grays, faded brown throughout the years of use and wear. His garbs are tight fitting to allow maximized dexterity and movement. His neck is wrapped in a scarf, which doubled as the sash he ties around his waist to hold, hide, and store his small arsenal of personalized weapons. The trims of his garbs have faded from a velvet dark to light, securely tied on with strips of leather.
Rysel has a head of shaggy oak wood brown hair, always a tumbling that somehow manages to look decent. His skin is tanned from the constant barrage of the sun's rays in training, as the light brown of his skin almost makes him look foreign. His body is tall, an even six feet with the muscle from years of training, yet nothing overbearing. Lastly, his eyes are a stately silver that shine with the sun, and glow with the moon. To this day, Rysel considers this glisten a gift from his shrouded companion who always seemed to appear in flashes of light.
Personality: Rysel is a man whose conversation will leave room for thought. He is an incredibly intelligent boy with a gift for tactics through and through. He can be explaining something diversely complex for one moment, and be explaining his lack of knowledge the next. Or even spanning to a conversation about noodles. He smiles with meaning, as he understand how much reason it has. His laughter is well earned, and easy to bring out as his sense of humour is nearly boundless.
However, Rysel also brings a native feeling of stoic, sometimes staying silent and staring without any perceived thought. Other times, expressing his feelings of discontent and presenting in the nicest, and if needed, not-so-nicest way to explain someone's stupidity to them. However, one factor that controls Rysel's personality, is his passion. His never ending hope and desire to live, and express or experience everything he chooses. He will fight for even the smallest thing he believes in with the biggest fool adamant mentality one will ever see. Even when he's wrong, he will keep on fighting just to see how long it takes for him to lose. He is the epitome of silver, as he has lived through every light and darkness, never seeming to corrupt one way or the other.
Specialization (Taijutsu, Ninjutsu, Genjutsu)
Majour: Taijutsu
Minour: Ninjutsu
-Chakra Style (Fire, Water, Earth, Wind, Lightning) (Only detail if Ninjutsu chosen as a Specialization).
Fire;Lightning
Village of Allegiance: Konohagakure
Clan: